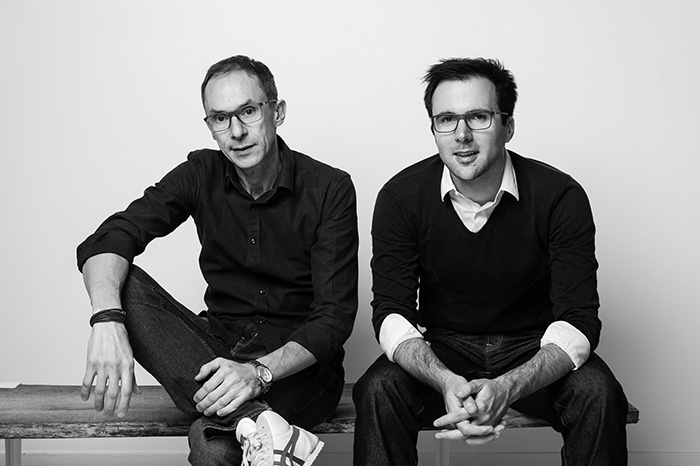 Since 2011, Noir Vif design studio founded by André Fontes and Guillaume Lehoux, has been creating and bringing to life projects that combine creativity, relevance and sustainability.
We support our partners, institutions, industrial companies and craftsmen in their innovative new objects, services or spaces design projects. We intervene from the (re)definition of the design need to the accompaniment of the production phase when necessary and all the intermediate conception and validation stages.
At the beginning of the projects, there are needs or desires. Those of our partners or ours. Each project represents for us the challenge of finding the best balance possible among a lot of aspects (formal, technical, fonctional, symbolic, environmental, financial …). In particular, we work to ensure that the sensible result arouses the right emotion.
Design and co-design
Once initial question considered in its broadest context, we engage a design phase whose form and duration are best suited to each project. Whether it involves the concerned partner or not, this step will generate many "intermediate representations" (sketches, virtual and physical models, etc.) that will allow the project to evolve in the desired direction and facilitate dialogue between the stakeholders. For some projects, we can develop new methodological tools to help design when existing ones are not suitable.
Research & Development
New objects, new uses or new materials, most often require a research phase that raises technical and even scientific questions. We therefore work in close collaboration with specialized consultancy firms, experts or research laboratories in the relevant fields, so that a new answer will emerge and allow the project to be carried out.
Project support
We support our projects by considering the constraints and the necessary adjustments until their finalization. It can be its installation for an urban device or its release for a product. This guarantees the validity of our proposals and ensures that the finalization of the project is in keeping with the design.
Prospective studies
Our design practice goes beyond designing immediately usable devices. We lead prospective reflections on broad themes or more specific topics. Our continuous monitoring on major technical and societal developments and on how to act as designers enables us to actively be part of them with our partners by designing desirable scenarios for the future.